Squid Friends Product Review
Kristin Hogan is an amazingly talented artist from Austin, TX. She opened her shop,
Squid Friends
, in 2006 where she sells plush sea creatures as well as some art prints.
The squid friends are made in many different fabric choices. From cute little cherries to geeky fabrics, there is sure to be a cephalopod you like. :)
I received this adorable squid in the Cherry print from Kristin:
Pros:
The hand painted eyes look very professional and are attached internally. I think eyes always stay attached better when stitched rather than glued, (and look better) so I like that they are stitched on.
The seams of my squid friend are extremely well stitched. Even on the underside where all of the tentacles come together, there are no gaps in the stitching, no lumps of stuffing. High quality!
I loved the size of the squid. These aren't itty-bitty plushies. The squids are about 19" from the tip of his head to his longest tentacle, which I like.
Cons:
I wouldn't recommend giving a squid to a young child. Although the eyes are sewn on fairly tight, they could still be chewed off and become a choking hazard. But as long as your child is old enough to know better than to chew on things, this would make a wonderful gift.
You can't put your squid friend through the washing or drying machine, but that's normal of any handmade item.
Overall, I highly recommend these squids! Whether you're purchasing one for yourself, or as a gift, These plush cephlopods are high quality handmade products!
Kristin's sewing skills aren't limited to just squids though, In her shop you will also find
Cuttlefish
,
Anglerfish
and she is even working on
creating Octopi
.
I got the chance to see cuttlefish during a snorkeling trip last year, and I think Kristin's Cuttlefish are so cute.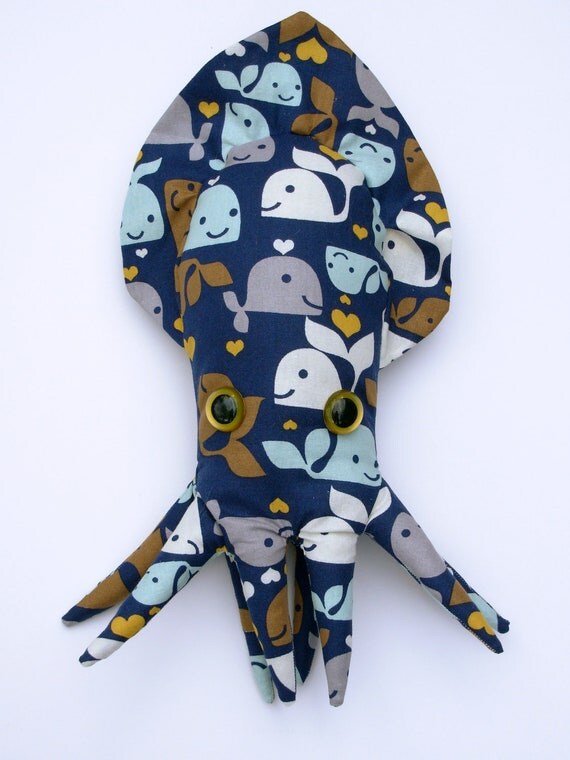 (image by
Squid Friends
)
BONUS!! Kristin is offering any Punk Projects reader free shipping on any plush in both of the Squid Friends stores! Just use the code "punkprojects" and go get your squid friend!
---
Interested in having your product reviewed?
Check out my review page, here.
11/09/2012


Tags :
product review